Lynn Parnell's Résumé
Lynn Parnell, BSC (Hons), ARCS, FCILT
Lynn has over 20 years experience in both technical and operational roles within Logistics and Supply Chain. Lynn specialises in Supply Chain Systems and Logistics Technology projects, and has lead several Supply Chain Integration projects.
Download Lynn's Résumé
in PDF format
Employment History and Experience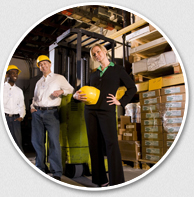 Lynn started her career with BOC Distribution Services, a 3rd party logistics provider, and worked with many clients including Marks and Spencer (Food and General Merchandise), British Airways (In Flight Services at Heathrow), SmithKline Beecham (FMCG), Wella (Hair products) and Matthew Clarke (Wines and Cider).
During her 5 years with BOCDS Lynn's roles ranged from Shift Supervisor in established warehouses to Business Systems Analyst and IT Project lead for start up operations.
In 1995 Lynn joined WCSS International as Technical Implementation Specialist. In this role she learnt COBOL programming and improved on her AS/400 operational skills. With WCSS Lynn was involved in the implementation and support of clients in the UK, Europe and South Africa. Including being Technical Lead for the roll-out of WCSS into 3 depots for Modis Sonae (Food and General Merchandise Retail) in Portugal.
After being promoted to Customer Services co-ordinator Lynn was instrumental in setting up and managing the 'Services Desk' to support all European and South African clients.
During 1998 Lynn moved to EXE Technologies as a Project Manager and was responsible for the implementation of Supply Chain Projects at Somerfield and Londis Holdings. Whilst performing this role she also became familiar with the UNIX operating system and Informix programming.
In 1999 Lynn joined SCManager UK (formerly WCSS International) to help re-launch the SCManager product in the EMEA region. In this role Lynn was involved in RF implementations for B&Q, Manor Bakeries (food manufacturing) and Nisa Today's (wholesale retail) as well as managing the technical team.
Logistics Partners was in founded 2000
In September 2000 Lynn formed Logistics Partners with Karen Kelly and became Sole-Proprietor in May 2001. Since forming Logistics Partners Lynn and has been fully utilised bringing measurable benefits to clients, using her practical experience in operating, programming, designing, integrating and implementing supply chain systems and logistics technology solutions.
Clients have included Musgrave Group (Eire and UK food wholesaleand retail), Temple Spa, Jamie at Home (part of the Jamie Oliver Group), Heathrow Airport (with LLC), WCS, GFS, Indigo Software, BWG (food services), P&O Ferries (on ship retail and catering), NAAFI, GKN Freight Services, Ann Summers (with LCP), Marie Stopes International, Edwards Logistics, Midlands Co-operative Society, Walker Logistics, Suttons Distribution and InterBulk Group.
Projects include Supply Chain System Reviews, Software & Technology Selection, Supply Chain Integration Consultancy, Project Management, Business Process Re-engineering and Business Continuity Planning.
Business areas have included Warehouse Management Systems (WMS), Transport Management Systems (TMS), ePOS, in-store stock management, warehouse replenishment and forecasting, Air freight, Sea Freight, ERP integration, RF and Voice.
More Qualifications and Accreditations
Lynn gained the European Computer Driving License (ECDL) in 2004.
Lynn passed the Prince2 Foundation and Practitioner examinations in 2006 and is a Registered Practitioner in Prince2.
Lynn gained a Diploma in Logistics Management with Distinction in 2009.
In 2015 Lynn was appointed an Ambassador to Transaid.
Lynn passed the APMG GDPR Awareness Certification in 2018 - with 100%.
Lynn is a Chartered Fellow of the Chartered Institute of Logistics and Transport in the UK - CILT(UK) and an Associate Member of the UK Warehousing Association (UKWA).
Lynn was on the initial steering group for Women In Logistics UK (from launch in 2009 to Jan 2011) and is now a member of the CILT Women in Logistics Forum.
Working with Lynn Parnell and Logistics Partners will give you confidence to make efficient, cost-effective improvements to your supply chain. Please email us with your enquiry.